It is a targeted way of zapping and reaches specific organs electrically, with a significant effect. A new kind of zapping that can overcome the obstacle of grease insulation. Plate-zapping is a specific way to zap preferably one organ at a time.
For example, with the sample of liver placed in the pathway between you and your zapper, the current has an instant effect on the white blood cells of your liver. Instantly they are energized and begin to eat the PCBs, the benzene, the heavy metals, the dyes, and the malonic acid in your liver. They even eat wheel bearing grease!
Like a fairy godmother that has waved her wand, all toxins are quickly taken out of the liver tissue and imprisoned in the liver white blood cells. If they have been fed themselves they can unload all this into the urine. Then they continue to eat toxins without zapper help. Gradually, conductivity returns.
Throughout the day, the organ with a tumor should be plate-zapped in various ways: combined with arteries, combined with veins, combined with white blood cells, each for 20 minutes. These zaps are followed with zaps to clear blood, lymph and the white blood cells themselves. And the kidneys are zapped to keep them from clogging repeatedly with the heavy metals and greases they are handling. Twenty-minute zaps can be kept up for eight hours or more.
Fifteen capsules (about 5 or 6 grams) of mixed enzyme powders can digest the dead matter coming from four hours of zapping. Eight hours require two such doses. More is better.
In advanced cancer nothing less than eight hours of zapping daily can catch up and exceed the rate of spread of disease. Zap eight hours daily until you are well. There are reports from victims who zapped without stopping for a whole month; symptoms came and went while they cleaned up their environment and suddenly the disease was gone.
(From : "The Prevention of all Cancer". Copyright)
Plate-zapping instructions FOR CANCER AND HIV
[As in "The Prevention of all Cancers", 2004 edition]
What is plate-zapping?
Plate-zapping zaps preferably one organ at a time. Everything in the zapped organ gets cleaned out
Benefits of Plate-zapping
Plate-zapping overcomes the obstacle of PCBs.
WBCs of the specific organ are instantly energized
Plate-zapped organ gets a north polarization
How long should a patient plate-zap?
It takes about 8 hours of daily zapping to catch up and exceed the rate of the spreading of the disease.
What needs to be plate-zapped?
Vascular and lymphatic system
Kidneys
Arteries, veins, white blood cells of the organ with a tumor or the involved organ
Organ with the tumor or the involved organ
Tumor itself or the part involved
What are pF and uH?
pF stands for picofahad and uH for microhenry. These are electronic components.
pF gives the preference for the right side of an organ and uH the left side of an organ.
What is needed to plate-zap?
Plate-zapper
Zapper
Red and black cables
Pair of pipes
No. 5 sets of pF (picofarad) and uH (microhenry)
Bottle copies of vascular, lymphatic system, tricalcium phosphate and involved organs or organ slides
How to set up your plate-zapper?
Insert the two red cables into the right and left plates of the plate-zapper and other end to one carbon handle.
Attach the black cable to the other carbon handle.
The carbon handles go under your feet near the heel.
How to plate-zap
Start with the BASIC SET everyday. Each plate-zapping session takes 20 minutes. Four zapping sessions form the Basic set, therefore it will take 1 hr and 20 minutes
Basic Set:
| | |
| --- | --- |
| Left Plate | Right Plate |
| Blood | WBCs |
| Lymph | "A + 1 pF |
| "L" | "A" + 1 uH |
| "L" + 1uH | CSF |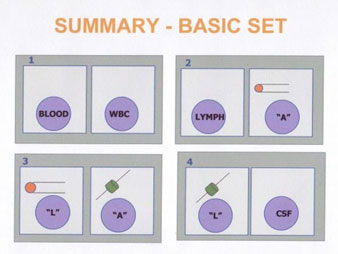 "A" stands for arteries; "L" stands for lymphatic vessels; CSF stands for cerebrospinal fluid (the lymph that baths the brain); WBCs stands for white blood cells
Organ with tumor:
Put the organ with the tumor on the right plate.
Put one part of the vascular system (basic set) on the left plate and rotate these with every plate-zapping session (The order does not matter)

The organ plate-zapping sessions are to be done with:

Organ alone
Organ touching "A" (arteries of the organ are being plate-zapped)
Organ touching "L" (lymphatic vessels of the organ are being plate-zapped)
Organ touching "WBCs (WBCs of the organ are being plate-zapped)

 

pF and uH are used to specifically zap the right or left sides of the organ
Tumor:
The left plate continues as mentioned above rotating the parts of the basic set
On right plate put organ touching the tricalcium phosphate bottle copy.
Reminders:
Plate-zap only one location at a time
Do not plate-zap at night
FOLLOW UP WITH THE REST OF DR. CLARK'S CANCER PROGRAM BEFORE PLATE-ZAPPING! AS SHOWN ON THE CANCER PAGE
WATCH PLATE-ZAPPING VIDEO:
---
OTHER ORGANS YOU CAN ZAP ARE THE DIGESTIVE TRACT AND OTHER ORGANS SUCH AS:
Bladder, Hypothalamus, Pineal, Brain, Kidney, Lung, Lymph node, Breast, Pituitary
Digestive tract:
Appendix
Bile duct
Colon
Duodenum
Esophagus lower
Esophagus upper
Esophagus stomach junction
Gall bladder
Ileum
Jejunum
Liver
Pancreas
Parotid gland
Rectum
Stomach cardic area
Stomach fundic area
Stomach pyloric area
Sublingual gland
Submandibular gland
Submaxillary gland
FOR HIV PLATEZAP ALSO THYMUS; BONE MARROW AND OTHER TROUBLESOME ORGANS
AND THE REPRODUCTIVE ORGANS . SEE HERE BELOW:
Male reproductive organs:
Testis
Ductus deferens
Penis
Seminal vesicle
Epididymus
Sperm
Female reproductive organs:
Ovary
Fimbria
Fallopian tube
Uterus
Cervix
Vagina
SEE THE ILLUSTRATION BOOKLET ON PLATE-ZAPPING .